encouraging imaginative play in schools
During playtimes, it's important to give children opportunities to exercise their minds as well as their bodies
At dbdplay, we build and install a wide range of equipment designed to spark creativity, expression, and investigation.
While larger structures such as our play towers, tunnels, and imagination dens encourage children to project themselves in a variety of exciting environments, we also offer creative stations for sand, messy play, and mark making to help pupils express their feelings.
Additionally, we can build outside performance spaces or help children to discover the wonders of the world around them through planters and bug hotels.
the dbdplay experience
dbdplay have been working with schools and nurseries since 2014 to create exciting playgrounds and valuable learning environments.
We work closely with each client to design a bespoke playground, tailored exactly to the space and the needs of their pupils.
dbd are environmentally conscious and use only FSC approved timber in our builds. We're also proud to offer an excellent installation service: every member of our wonderful build team is DBS checked and experienced in working on school sites, around normal school hours. On request, we can even run learning sessions for children about how their playground is being built.
what our customers say
"Our playground looks AMAZING! We are so grateful to all your team for their hard work in giving our children something so truly unique and special."
St Peter's CofE Academy
dens and huts
In the mind of a child, a den can be a house, a cave, a castle, a flying machine, anything! So many imaginative games rely on a home base or a safety zone, and our play shelters suit this need perfectly.
Our dens can also provide shelter from the British weather and can double as working spaces for small groups or one-to-one learning.
water walls
Our water walls are an exciting addition to any playground!
Younger children can explore the physics of liquids or soft balls as they make their way down the pipe maze.
All the fun and problem solving opportunities of a marble run but on a bigger scale!
creative play at mangotsfield primary school
planters, mud kitchens, water walls and more!
mud kitchens and sandpits
Why should forest schools have all the fun? Mud kitchens have become extremely popular recently, and for good reason.
Concocting potions and mud pies can help children flex their creativity along with their fine motor and problem-solving skills. Playing with mud can also provide valuable sensory experiences, helping them get back to nature, and has been shown to boost the immune system over time.
dbd provide several different models of mud kitchens to fit different spaces and playground designs. Our mud kitchens are mainly constructed from timber, treated to withstand the elements for many years.
We also love sand play for similar reasons! Particularly popular in early years, sand provides the opportunity to use different tools, bury and uncover mysterious objects, and build miniscule landscapes.
dbd provide both ground-level sandpits with a sliding timber cover, and upright sand play stations with a removeable weather-proof cover.
performance and storytelling
Stories are an incredible tool in Nursery and Primary Schools.
New stories give children access to places they haven't yet experienced, building empathy and understanding, as well as helping them to reflect on their own place in the world.
In turn, encouraging children to tell their own stories - verbally or through performance - can be very empowering. It can boost confidence, aid presentation skills, and allow them to explore new roles and ideas in a risk-free way.
Our storytelling and performance areas are the perfect way to encourage this as part of free play, as well as being a valuable resource for teachers.
Our Storytelling Chairs and Grass-topped Stools encourage small group speaking and listening. Our range of stage areas with seating allow children to become the star of their own show, particularly with a chalkboard to use for dramatic scene backdrops.
stem in the playground
Firsthand experiences of the natural world can inspire scientific questions, and gives children a in-depth understanding of nature.
Our bug hotels give children a close-up look at the minibeasts which live in their playground. Our timber planters encourage classes to grow their own, observing different stages of plant life cycles.
mounds and tunnels
Our play grass mounds and tunnels encourage children to climb, crawl, roll, and practice navigating different terrains.
They additionally provide an inspiring playscape of hills and caverns, which can be used in creative free play.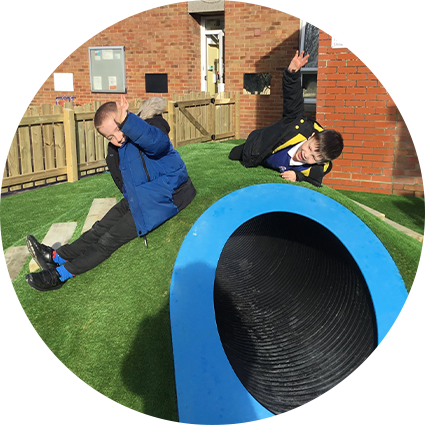 let's get creative!
Still looking for something? Talk to us and we'll see what we can do! Each dbd playground is unique, so we're sure to come up with a solution, even if it's something new for us.
Book in a call today for a free preliminary chat about your playground redesign. We'll come up with something fabulous that meets your budget and requirements.

If you're happy to proceed, we can often organise a site visit in as little as 1 week!
what to expect from us
Every playground we create is unique - designed to meet your objectives within your budget. However, we aim to deliver a consistent experience for each one of our clients.
We start off by meeting you so we can get to grips with your aims for your new playground. We'll also visit your site to take some measurements and photos to build up a full picture of the space.
From there, our designers can get to work. Within 2-3 weeks, they'll create a proposal - including a 3D design tour and a detailed breakdown of the cost. We'll keep discussions open with you until you're completely happy with the plan.
We have an in-house team of carpenters and product designers who can ensure we have everything ready to install your playground.
Whether you're a nursery, primary, or secondary school, you want to ensure that everyone on your school grounds is a trusted professional.
This is why every member of our installation team is DBS checked, experienced in playground construction, and understands how to work around a school day to cause minimal disruption.