bespoke playground landscapes and surfacing for schools
The days of boring grey tarmac playgrounds are over!

Whether you're looking to swap tarmac for bonded rubber mulch, or turn your playing field into an all-weather MUGA pitch,or introduce grassy mounds and tunnels into your adventure play area, we'd love to help!

At dbdplay, we offer a wonderful selection of playground flooring options. Everything from paving and hoggin for reflection gardens, to shock-absorbing sports surfacing, to soft rubber mulch for trim trails.
check out the bright, new, all-weather surface at oakhurst community primary school!
the dbdplay experience
At dbdplay, we just love designing and installing playgrounds for schools and nurseries!
Each playground design is uniquely engineered to meet the restrictions of the space and the needs of your school. No job is too big or small.
Because we understand the requirements of an active play space, our playgrounds are always built with safety and durability in mind, and come with a guarantee!
Each of our expert installations are carried out by either our own lovely build team or trusted, regular contractors, all of whom have undergone an enhanced DBS check.
what our customers say
"The build team were brilliant - you wouldn't have known they were there if it wasn't for the diggers! The most important customer is the children of course. They love it and have told me time after time that 'it's awesome'!"
Avanti Park
just like grass and play grass
A lush, bright play space that's colourful and cushioning, offering a year-round surfacing solution.
Just Like Grass is similar in look and texture to actual grass, but requires little-to-no upkeep and is useable no matter the weather. It is an ideal all weather surface which can be used to extend the available play space of a playground or under Trim Trails or a Daily Mile.

Play Grass has many of the same benefits as Just Like Grass but it comes in a variety of exciting colours. This means it can be used to create imaginative floor patterns, such as rivers and islands or to demark different play zones in your playground.
bonded rubber mulch
Bonded rubber mulch is a versatile surface made from recycled shredded rubber. It is not loose fill as the rubber shreds are bonded together.

It is an ideal option under active play equipment such as Trim Trails or Towers, it can also be used as a Daily Mile Path.
hoggin
Hoggin is a versatile surface that can look more natural than some alternates. It is a mixture of sand and gravel and is ideal for pathways or used in reflection areas.

It is also suitable for areas that will see heavy wear or may need to support vehicles. The surface is naturally porous to prevent standing puddles.
mounds and tunnels
Our Play Grass Mounds and Tunnels are a popular option in Primary School and Nursery playgrounds.

They provide the interesting effect of rolling hills, as well as encouraging children to exercise their gross motor skills through negotiating sloping surfaces and travelling in different ways.

Additionally, they can spark imaginations, providing an exciting creative landscape for explorative play.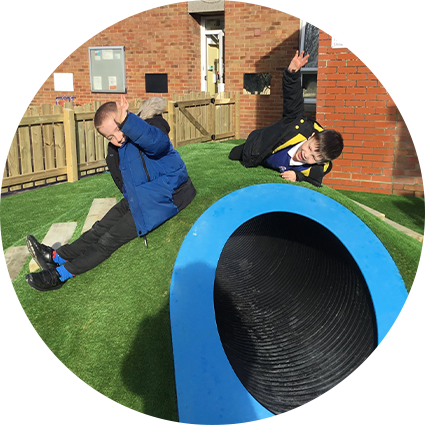 wet pour surfacing
Wet pour rubber surfacing is a continuous rubberised surface that is available in a variety of colour to brighten up your play area.
It can be installed onto good quality tarmac, alternatively it will require base works to be completed before laying.
our price promise
We work hard to ensure that all our products are competitively priced, so we will guarantee to match, or better, any genuine like for like quotation.
play bark
For a more natural look there is play bark. Play bark is different from wood chippings as it has been treated to remove sharp edges and to minimise the chance of splinters.

This is one of our lower-cost surfacing options which can look fantastic in a forest school setting. However it is higher maintenance as the play bark has a tendency to disperse so may need to be topped up regularly.
limestone and slate chippings
Perfect for pathways, borders, and reflection gardens. We supply gravel, slate, and limestone chippings for playgrounds.
These gravels make transient spaces more attractive and stimulating to children.
can't find what you're looking for?
The playground surfacing and lanscape options don't stop there!
If you're thinking of something specific you'd like to see in your playground, please get in contact and we'll let you know what we can do.
If you're looking to add some levels to your playground, add features, or change the landscaping, our designers are up for the challenge. Let us know the effect you're after and we'll be ready with some expert advice.
let's make your playground look amazing!
Book in a call today for a free initial chat about your playground redesign.

If you're happy to proceed after the call, we can often organise a site visit in as little as 1 week!
what to expect from us
Each dbd playground is bespoke - created to meet your school or nursery's objectives within your budget. However, we aim to deliver a consistent experience every time for every client.
We start with a discussion to clearly understand your aims for your new playground, followed by a site visit to understand the full scope of the project.
Within 3 weeks or this, our designers will deliver a proposal for your dream playground. This includes a 3D tour of the design (great for showing off to parents and governors) and a detailed breakdown of each cost.
Once you're happy with every element of the plan, the operations phase begins.
Our construction experts will collect or create everything needed to install your playground, before handing on matters to the build team.
You want to ensure that everyone on your school grounds is a trusted professional, which is why every member of our installation team is DBS checked and experienced in playground construction.