wet pour
Wet pour is a continuous rubberised surface made from granulated rubber crumb. The coloured rubber crumbs are bound together with a resin that once set provides an impact absorbing surface.
Wet pour is constructed in two layers, a base layer and top layer. The base is made from large black rubber granules and the top layer is made from smaller rubber granules in your chosen colour.
It is available in a variety of colours which can brighten any play area. It can also be installed to replicate any designs or logos that you may want.
Available as a safer surface it can be installed onto good quality tarmac, otherwise it will require an appropriate subbase to be laid before installation.
thermoplastic markings
Thermoplastic playground markings are an excellent way of brightening the dullest of tarmac spaces. There are a huge range of options to engage pupils across the curriculum.
We use preformed thermoplastic available in 18 bold colours that have UV resistance to ensure the colours don't fade. The material is flexible and precision cut so intricate designs can be created.
We also offer a bespoke solution for schools and nurseries that wish to incorporate their school crest or logo. We can also create markings which can promote your schools values or be part of your sports area.
play bark
For a more natural look in your playground you can choose playgrade bark. Playgrade bark differs from wood chip as it has been treated to make it soft and to ensure all splinters and sharp edges have been removed. Making it suitable for children's play areas.
This is one of our lower-cost surfacing options which can look fantastic in a forest school setting. However it is higher maintenance as the play bark has a tendency to disperse so may need to be topped up regularly.
play sand
Play sand is ideal in an EYFS setting and can be incorporated into sandpits and free play areas. It can also be used as a playground surface with impact absorbing qualities.
Play sand is soft and mouldable and is naturally formed to reduce any sharp edges, it is ideal for making sand castles and other types of construction play.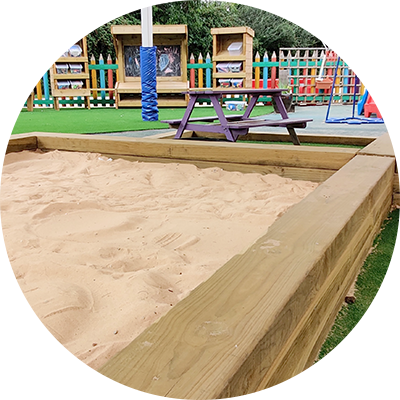 hoggin
Hoggin is a self-binding gravel that complements a range of settings in a school or nursery environment. It is ideal under canopies or to create additional pathways around the school site without resorting to traditional tarmac.
It look soft and natural in appearance, but is hard wearing and perfect for all year round use on pathways or other high foot traffic areas. The surface is naturally porous which helps to prevent standing puddles and is low maintenance.
resin bound gravel
Resin bound gravel combines small stones with a resin compound to form a firm attractive surface that is ideal in a school or nursery setting.
It is both durable and porous as water travels through the small stones. Resin bound gravel is an excellent choice for schools wanting to ensure that their site can be easily accessed by wheelchairs users.
let's make your playground look amazing!
Book in a call today for a free initial chat about your playground redesign.

If you're happy to proceed after the call, we can often organise a site visit in as little as 1 week!