play towers and trim trails for schools
Our Timber Trails and Climbers are fantastic facilitators for physical play. Watch as children swing, balance, and jump over obstacles, while having an amazing time doing it.
These play areas can also become flexible arenas for imaginative play, while the trickier challenges can encourage problem solving and perseverance.
dbdplay's experience across all key stages and nursery levels helps us to build physical challenges which are exactly the right balance of accessible and exciting.
check out this trim trail
See the refreshed, free-flowing trim trail designed for Churchstanton Primary School
the dbdplay experience
At dbdplay, we design bespoke playgrounds according to the space and the exact needs and wants of your school. The only limit is your imagination!
Because safety and durability are a top priority, all our play equipment is built from FSC approved timber, treated to stay solid through wet, cold, and frequent use for many years to come.
All expert installations are carried out by either our own team or trusted, regular contractors.
what our customers say
"Our playground looks AMAZING! We are so grateful to all your team for their hard work in giving our children something so truly unique and special."
St Peter's CofE Academy
trim trails
All the adventure of a tree-tops course with a safety rating perfect for a school playground.
Trim Trail equipment can guide children to get active, navigate obstacles, and test their balance and coordination in an exciting mixture of ways.
Navigate the net, wobble along the balance beam, hop across hanging logs, and much more!
dbdplay offers a variety of Trim Trail equipment to suit all ages, skill levels, and needs - from EYFS to higher level adventure playgrounds for KS2. We can also install playground surfacing to minimise bumps and bruises.
Talk to us about your pupil's favourite active challenges and your goals for physical development, we'll work with you on an exciting, bespoke solution to get your children moving.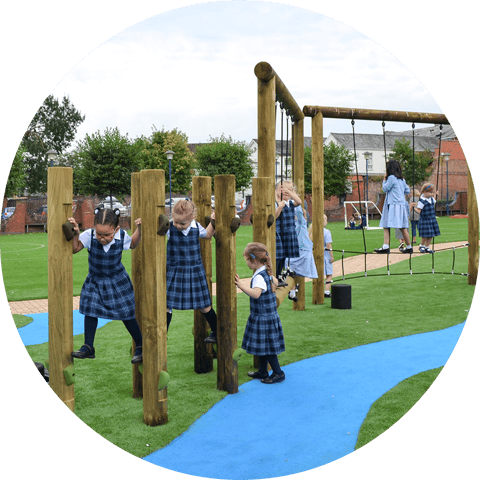 climbers
Children love to climb, which is why Nets, Rope Climbers and Climbing Walls have been playground staples for years.
Depending on the design, wooden Climbing Frames can also be wonderful for building balance, agility, core strength and encourages physical activity.
We have an extensive range of adventure Climbing Frames for schools to choose from, including rope, hand-grip, and beam climbing elements. Like all of our timber products, they're built to last through frequent use and all that the great British weather can throw at them.
Speak to us about your space and the goals you have for your children's physical development, and we'll come up with something amazing!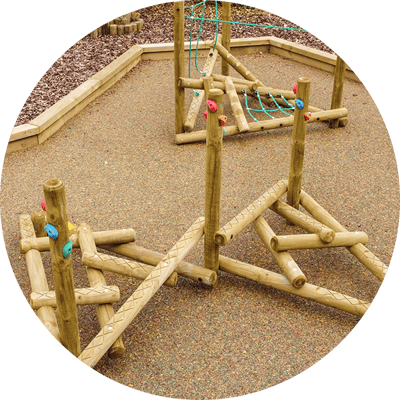 towers
From Early Years upwards, playground towers are a brilliant, versatile addition to any play area.
Whether they're being climbed up, slid down, hidden under, or used as the final stage of a Trim Trail, these super-adaptive structures are guaranteed to capture children's imagination.
eyfs towers
When twinned with Climbers, Fireman Poles, or Slides, these can promote age-appropriate risk taking for little adventurers.
With some creative additions, they can also have a multi-use as play dens or imagination stations.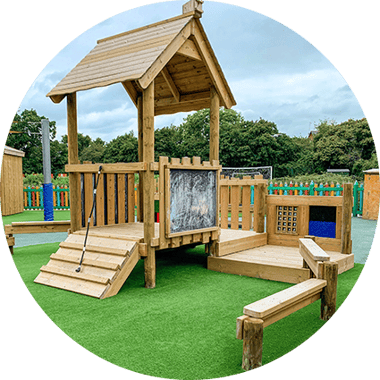 linking towers
Ready to take your Trim Trail design up to the next level?
Linking play towers together can open some amazing opportunities.
Towers can allow for higher Rope Bridges or Monkey Bars and give children a rest platform partway through a Trim-Trail. Where the Tower is used as a base for a slide or Climbing Wall, linking to a second Tower can also give children more space to play together.
let's start an active-play revolution on your playground!
Book in a call today for a free preliminary chat about your playground redesign.
Tell us your ideas and goals and we'll come up with some exciting initial ideas within your budget.
If you're happy to proceed, we can often organise a site visit in as little as 1 week!
what to expect from us
Every school playground we design is bespoke - created to meet your unique objectives within your budget. However, when it comes to our client experience, we aim to deliver a consistent experience every time.
We start with an initial discussion to clearly understand your aims for your new playground, followed by a site visit so we can get an accurate picture of your outside space.
Within 2-3 weeks, our expert designers can use this information to create a proposal for your dream playground, guided by our Play Values. This includes a 3D tour of the design (great for showing off to parents and governors) and a detailed breakdown of each cost.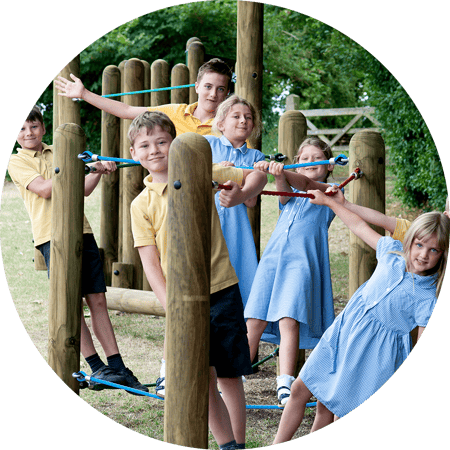 We'll keep consulting with you until you're completely happy with the plan. Then, the operations phase begins.
Whatever the age of your pupils, you want to ensure that everyone on your school grounds is a trusted professional. That's why each member of our installation team is DBS checked, experienced in playground construction, and understands how to work around a school day to cause minimal disruption.
If you like, we can even show your pupils some of the build process to engage in developments at their school!