"It was a pleasure to have [dbdplay] with us. The children loved being on site and now really feel part of the whole process. Such an experience for them!"
St Bartholomew's Twitter
Setting the Scene
St Bartholomew's Primary Academy School is a part of the Diocese of Salisbury Academy Trust. It is situated in Wootton Bassett near Swindon. Their school is built upon a strong set of Christian values which ensures their children leave the primary school with a caring and respectful attitude towards others. St Bartholomew's Primary Academy's ambition is that every child is nurtured, challenged, and empowered to 'soar' so that they may fulfil their true potential and become confident individuals with the appropriate knowledge and skills to enable them to succeed both now and in the future.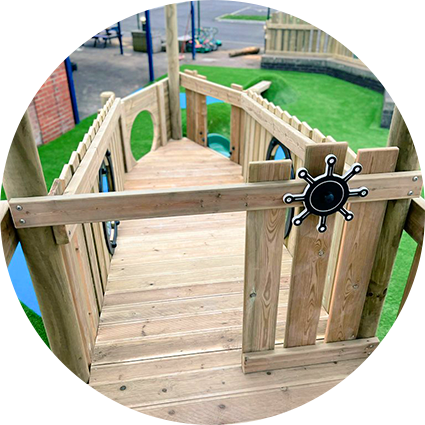 Customer Objectives
St Bartholomew's Primary Academy wanted to update and develop their school playground. They had a very large grey tarmac area with lined thermoplastics which they wanted to separate and generally brighten up the whole space. They wanted us to focus on their EYFS area and to divide the areas for both the EYFS and KS1 children. St Bartholomew's wanted an impressive focal point for the playground that would encourage both physical and symbolic play. They already had a small tunnel on the playground which the children enjoyed so they asked for another one of these for the EYFS area but bigger and more exciting.
Our Solution
For the Early Years Area, we wanted to follow St Bart's wishes and create an impressive focal point for the playground. We installed a bespoke Pirate Ship Double Tower which encourages children to use their imagination and offers opportunities to develop their physical and symbolic play. The Pirate Ship Double Tower allows endless opportunities for teamwork and problem solving, working out the best route across the rope ladder or how to get up the small climbing wall. It also offers opportunities to develop Communication and Language through Narrative Play. It inspires children to explore and build confidence within a safe environment. We also installed a large Climbing Mound with Tunnel which develops gross motor skills; climbing, crawling, and balancing but also helps develop the understanding of Positional Language, as it can be used as a look out across the rest of the playground. It is also inviting due to its attractive bright colours.
We had shown the school the Churchstanton Primary Case Study during our visit, and they had taken a liking to the balance beam and mounds therefore we made sure we stalled these at St Bartholomew's too. We installed Just Like Grass over the whole EYFS area to soften the surface and reduce injuries and make it look bright and appealing. We installed blue Play Grass through the centre of the space to look like a river to add to the pirate ship theme and encourage more symbolic play and encouraging children's imagination whilst making the whole area bright and attractive. We installed fence panels around the newly surfaced area to separate it from the KS1 playground which allows the EYFS children to have the enclosed space to play without being knocked over by the older children running about on the 'big playground'.
Live Learning Experience
We suggested to St Bartholomew's to come into school and talk to the children and staff about our playground installation process and explain what all the tools they can see on their playground do. We wanted to involve the school with this exciting phase of the development, giving children the thirst for knowledge and the staff insights into what goes on behind the scenes.
It was a lovely way for the children to meet our friendly installation team and our Playground Consultant, Designer and Managing Director. Our toolbox talk got the children involved and excited about their new playground. They all asked lots of interesting questions and learnt a lot about construction. We showed and described how our tools worked, the children were especially fascinated by our drone; they all really enjoyed watching it take off!
Originally published Feb 9, 2022 3:12:06 PM , updated August 2, 2022